You can now access KCC anytime, anywhere in the world!
Available now on iOS and Android KCC One offers:
Video, audio and transcripts of KCC's huge catalogue of Bible talks from the last 40+ years
Featuring speakers such as Michael Ramsden, Kirk Patston, Don Carson, John Lennox, Nancy Guthrie, Paul Tripp, John Chapman, Sam Chan, Simon Manchester, Mike Raiter, David Cook, Frank Retief, Helen Roseveare, Brett Middleton, Danny Mitchell and Matt Sparks – with more being added every week!
The ability to give to the KCC ministry
Updates on events, StayKCC, merchandise and more
By the end of 2020:
Direct event registration for conventions and LiveStream events
Available on tablet (July 2020) and laptop (Dec 2020)
Curated content
Devotional resources and translations
In 2021:
LiveStream feed
Ability to manage your convention bookings, support, playlists, feedback and more.
KCC talks and resources,
anywhere and any time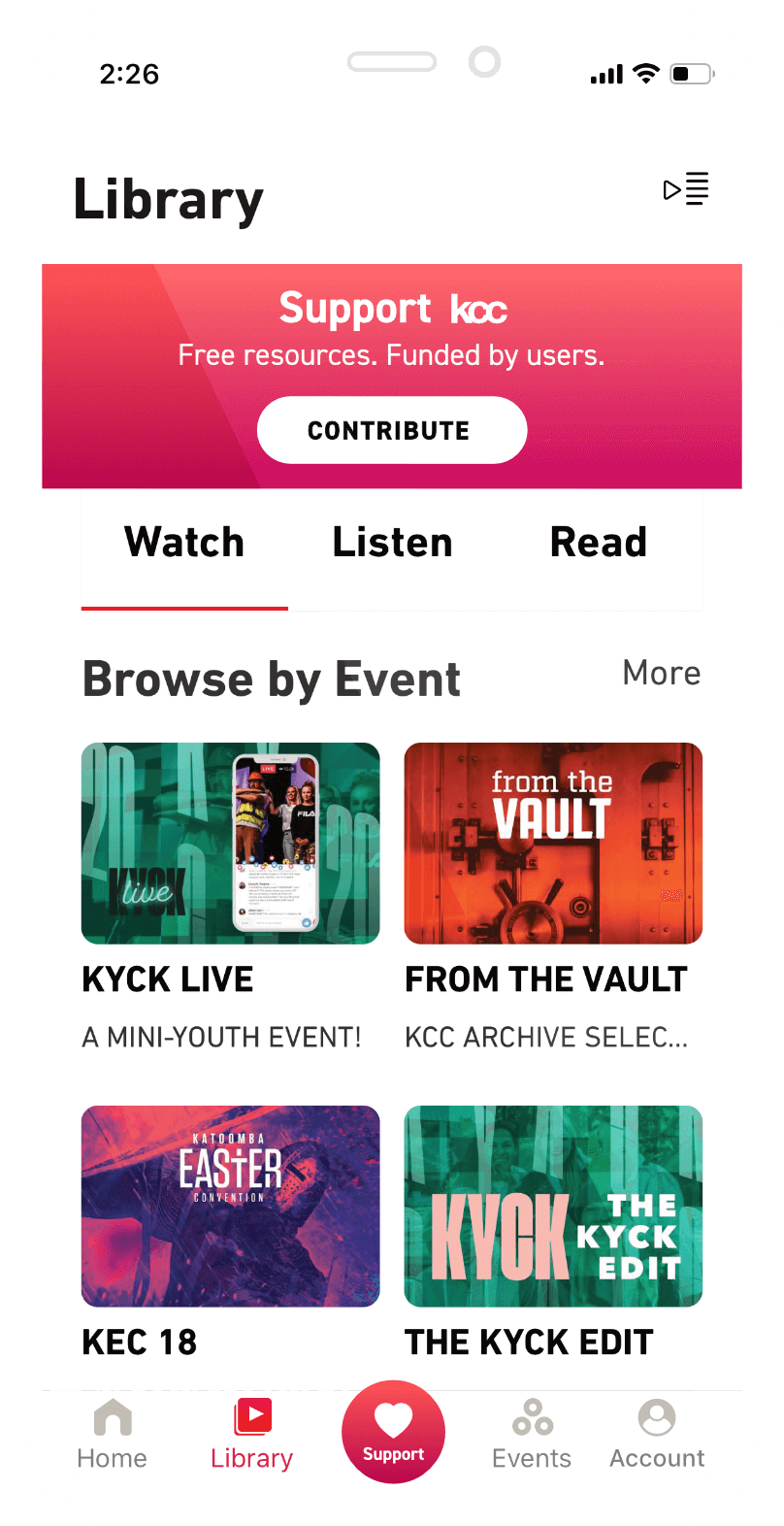 Curated content
rolled out regularly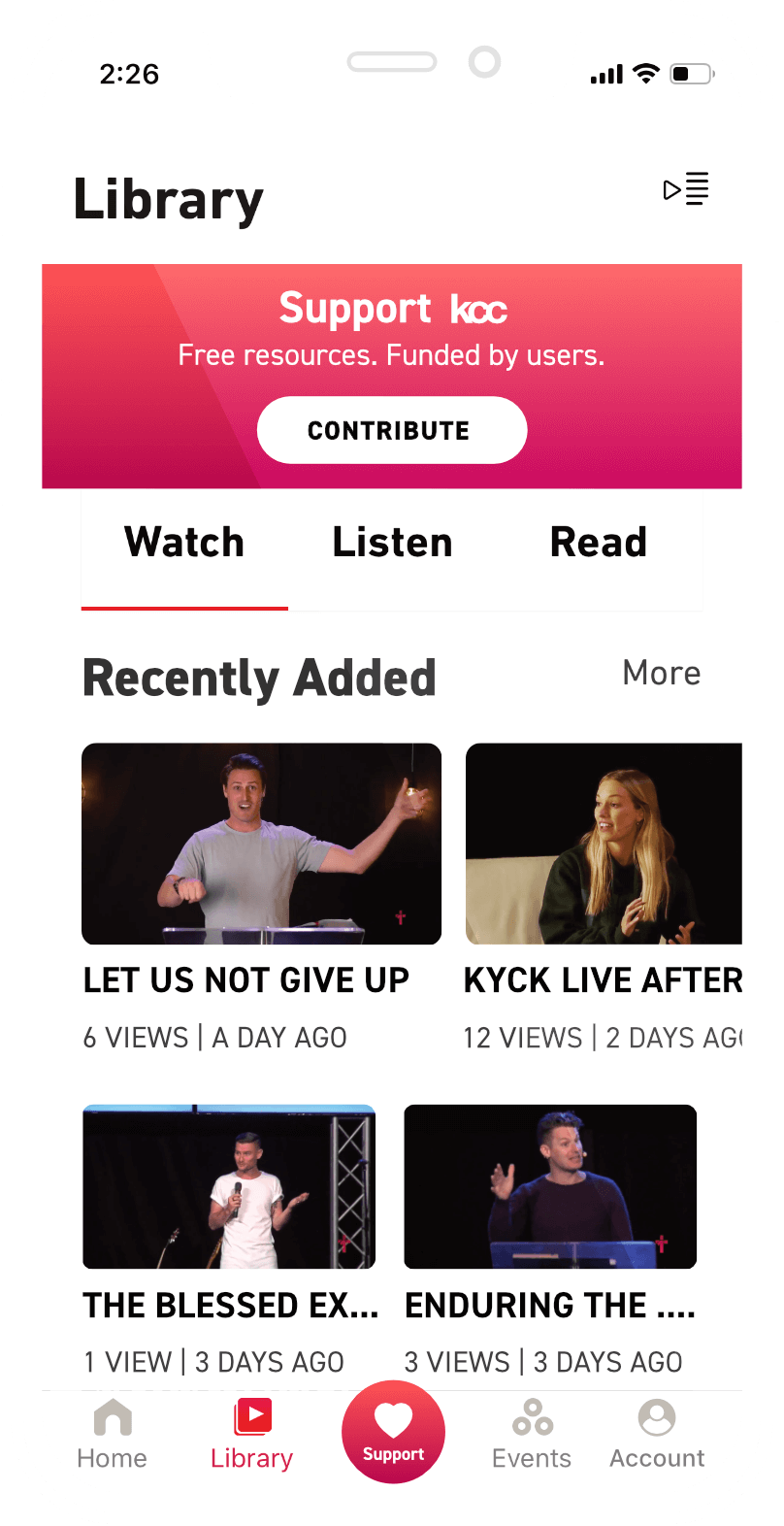 Updates and registration
for KCC events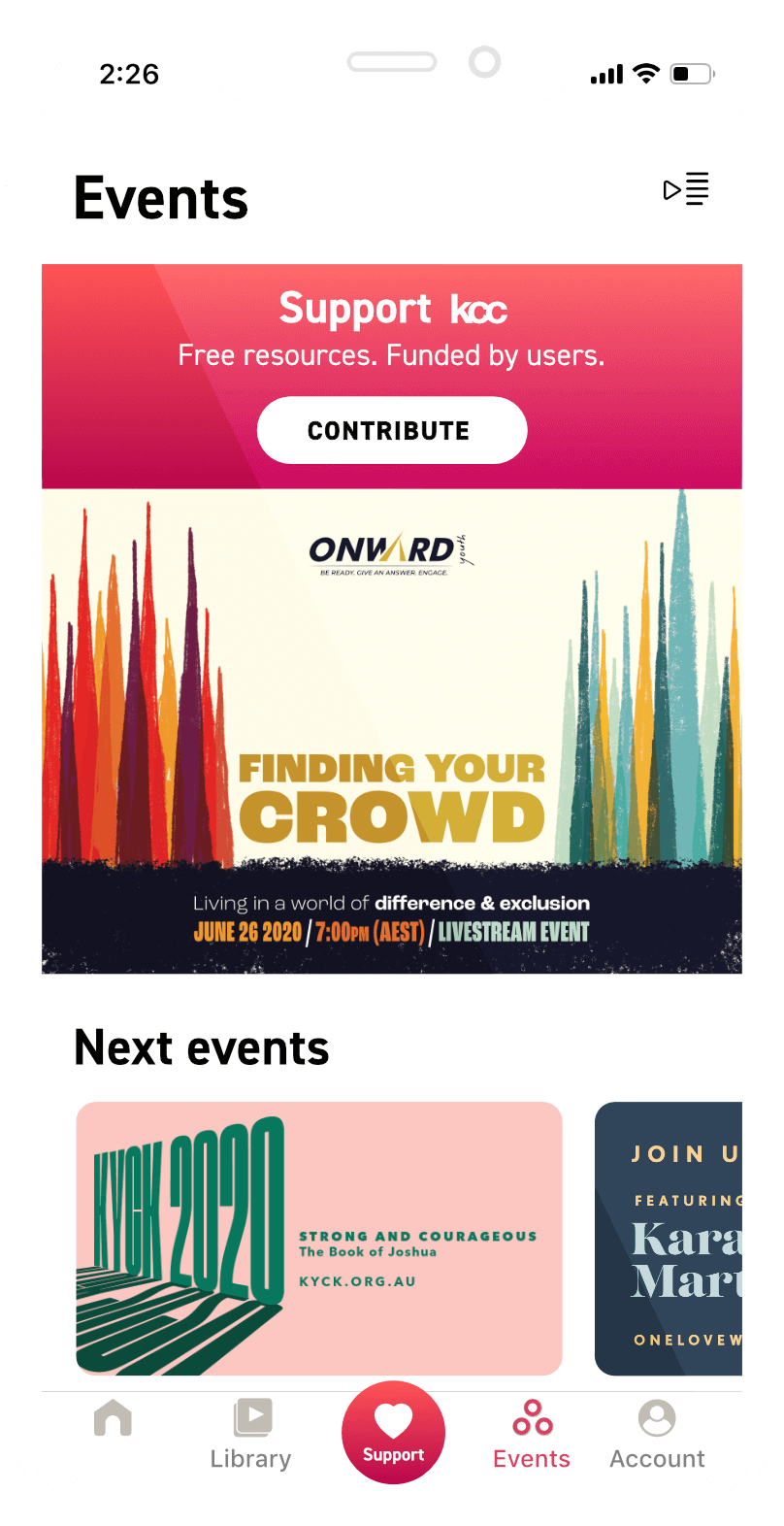 We are giving thanks to God
We are giving thanks to God for a very positive 2019. God has provided for, and used, the KCC ministry across the year: conventions have impacted thousands, people have become Christians, KYCK has filled and grown to a fourth weekend, our conference centre continued to excel in every area, our staff teams performed better than ever and our volunteers' and supporters' generosity with time and funds was near record levels. It has been immensely encouraging to see several years of hard effort in many areas 'behind the scenes' come to fruition in these ways. We thank God for it all and we hope you enjoy reading about it in this report!
How KCC is 'travelling' through the COVID-19 crisis
The COVID-19 crisis meant that KCC needed to reschedule Easter Convention (KEC) and our three high schoolers' conventions (KYCK) to October. Our other events were all put on hold while we re-evaluated. We had to close our conference centre to all business until further notice. 
During 2020, we have had more than enough work to do. We  worked hard to pull together excellent Livestream events for other conventions: Onward, Basecamp, OneLove and KYCK. We intend for Livestream options to continue beyond the COVID-19 situation and are developing accordingly. We are also putting the finishing touches on our new app ('KCC One', launched April 12) and fast-tracking development of new features. At our conference centre, we have been working on upgrades, improvements and maintenance. We are thankful to have so much to do, and for the Federal Government's JobKeeper support and other concessions. This has enabled us to keep our two small and valuable staff teams (16.5FTE total) together.
Being unable to hold any face-to-face events and closing our conference centre has been a very substantial blow financially. Funds generated from registrations, donations, on-site accommodation and resource sales have all been affected.
Our most serious scenario was KCC finishing 2020 with a $1.2m operational deficit. 
We have taken every step to avoid this but if realised, we will navigate this by liquidating some minor assets and/or borrowing. This will be difficult, but achievable. KCC's financial reserves, however, will be all but exhausted.
KCC aimed to raise $750,000 to keep any loss 'manageable' and enter 2021 on a reasonably solid financial footing.
In June 2020, we ran a dollar for dollar campaign thanks to the pledge of a generous donor.
This meant that any funds that were given, were doubled in their value to KCC.
Following the end of 2020, we have been able to raise $575,000. Thank you to all who have given generously. We still have a further $175,000 to raise.
We are aware that for some people – those who have suffered job losses and other financial hardship – giving to KCC financially has simply not possible.
If, however, you are in a sound financial position, then we would like to ask you to – please – support KCC.  If you are able to pledge a monthly gift – that kind of giving helps us the most. But if that is not possible, we are grateful for whatever you are able to give in any way.
— Rod Walker + Jonathan Dykes
Chairman + Executive Director
KCC needs to raise a further $175,000 to keep any loss 'manageable' and enter 2021 on a reasonably solid financial footing. (So far we have raised $575,000 of our $750,000 goal for 2020.)
There is neither Jew nor Gentile, neither slave nor free, nor is there male and female, for you are all one in Christ Jesus.
— Galatians 3:28
Thank you to our
2020 Ministry Partners
We are conscious that this year has been a difficult one, not just for KCC, but also for many ministries and organisations.
We wanted to say a big THANK YOU to our partners this year, who have committed to continuing their support and partnership with us even in this time. Please visit, support and read more about our partner organisations below.